Note: Instead of today's regularly scheduled programming, I've written about something that has affected me recently – pro cyclists getting into accidents while training.  While I don't think the death of a pro cyclist is sadder than that of a bike commuter like you or me, the former is certainly receives more publicity and highlights the dangers we face every time we mount our bikes.  I'm sorry my second blog post is such a somber one – I'll make up for it with something more lighthearted in a few days.

One of the best parts of cycling, the professional sport, is that it doesn't differ too greatly from cycling, the recreational activity and mode of conveyance.  The well-heeled among us can purchase the same bikes our favorite pros ride, and just about anyone can run alongside these same pros as they ascend the grueling cols of Le Tour.  While pro cycling isn't a made-for-TV sport like football or baseball, a fan's access to the pro cyclist is much greater than that of a pro ball-player.  But, just as they aren't protected from their craziest fans on L'Alpe d'Huez, pro cyclists are afforded no more protection from motorized traffic than is your local club racer.
Their accidents are often public and sometimes tragic.  This rang true for me just over a year ago when Andy Schleck was hit by a car while training.  "Don't pros train on closed roads or at least have team cars following them?" I wondered. Unless you're Lance Armstrong, the answer is usually "no." Most top pros receive three bikes from their team: a race bike, a time trial bike, and a training bike that they keep at home for when they aren't traveling with their team.  When they're training by themselves, pros are very much on their own and neither sleepy truck drivers nor texting teens care if they're the World Champion or 5-time winner of the Race Across America (RAAM).
I was stunned to open Cycling News in September to find that Jure Robic died as a result of head-on collision with a car (the driver of which was not at fault).  His 5 RAAM victories had labeled him, at least in my mind, as a semi-human cycling machine.  I mean, he rode across this vast country in less than nine days, averaging about a half an hour of sleep per day.  He holds the world record for the number of miles ridden (over 518) in a single 24-hour period.  Surely this man could not subject to the pesky laws of physics.  But he was – just like you and I.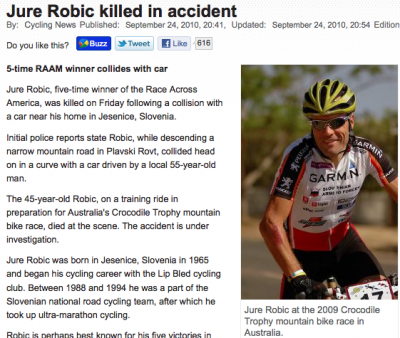 Even more recently Carla Swart, a fellow product of collegiate cycling, was killed while riding in South Africa.  She was an unbelievable talent who dominated the collegiate cycling with Lees-McRae college and had recently joined the HTC-Highroad women's team.  She will be missed dearly.  The publicity her death received on VeloNews.com and other popular outlets serves as a reminder of how little real protection we have on a bike.
It's tempting to distance yourself, though, from such news stories.  You can easily tell yourself that the risk is much greater for pros because they ride 5+ hours every day, and maybe that's true to a certain extent.  But as annoying as it is, the anti-cycling crowd have a point when they constantly reminds us that we are no match for their 2-ton hunks of steel and glass.  We have no chance.  It doesn't take 6 hours a day to end a life, only a split second of inattention.  Ride safe.
Edit: When I was writing this post, I read about the cyclist who died downtown yesterday. This hit even closer to home than what I have written above – my daily commute takes me just two blocks from yesterday's accident.