Another blogger writing about Lance Armstrong? Really?  Yes, Really.  But fear not the boilerplate "did he dope?" conjecturing and testiculating.  I am writing this post today for two very important reasons:
1. I want to increase my search engine results for the "Lance Armstrong is a self righteous dick" query.  This also might mean that I need to blog about male genitalia.  Stayed tuned for what I come up with on that front.
2. I have an embarrassing confession to make – the reason I ride a bike around on a daily basis is Lance Armstrong.  It pains me to write it, but it's true.
You've heard "The Story:"
Lance was an anonymous American triathlete, and later cyclist, who won big one-day races in Europe far before most Americans knew what the Tour de France was.  In 1996, he was diagnosed with metastatic testicular cancer and given a vanishingly small chance of survival.  After kicking the cancer (and part of his genitalia) to the curb, he returned to the sport.  During a dramatic comeback, Lance won the Tour de France a record seven consecutive times while simultaneously giving hope to cancer patients and decorating the wrists of anyone with at least one hand.  During a time when French-American relations were strained, our collective heart swelled with pride every July as dear old Lance ensured that the Star Spangled Banner played on the Champs-Elysees.
And while I never idolized Lance Armstrong, his story at least got me interested in the sport of cycling.  I watched every minute of his last two Tours and acquired my first road bike in 2005, an aluminum Specialized Allez with Shimano 105 components.  My passion and excitement has grown ever since, to the point where I'm writing a bike blog targeted at the nerdiest of cycling nerds (that's you, by the way).  Okay, back to the story:
Lance is one of the most polarizing figures in sports.  People believe that he's either an inspirational hero whose only motivation is to enrich the lives of cancer patients and survivors or a lying, cheating, egotistical fraud who should be stripped of every award he won.  Lance Livestrong vs. Lance Pharmstrong.
But I don't believe either.  It's way more complicated than that.
The Lance Armstrong Effect
First of all, The Lance Armstrong Effect – Lance's ability to bring awareness to himself and organizations he supports – is immense.  For instance, look at Google searches for "trek bikes"  in the United States between 2004 and the present:

Lance, sponsored by Trek, won both the 2004 and 2005 Tours de France.  He drove Google searches for Trek during July of each of those years.  Yet, when he was "retired" between 2006-2008, search spikes during the Tour evaporated.  Even though Alberto Contador won the 2007 Tour on a Trek, there was no search spike in America.  It was a world-class athlete, but it wasn't Lance.  However, when Lance returned to the Tour in 2009 and 2010, so did interest in Trek Bicycles.  That, folks, is the Lance Armstrong Effect.
Similarly, the number of spectators at the Tour de Lance France diminished after Lance's retirement and exploded upon his return.  I couldn't find exact figures for this, but I did find a recent article about Lance's affect on the Tour Down Under. The size of the crowd at the TDU jumped 39% when Lance return to international competition in 2009 over the previous year.  That's enormous, and that's the Lance Armstrong Effect.
The Doping Effect
Okay, so the Lance Armstrong Effect is very powerful, but I couldn't write a blog post without mentioning Lance's doping allegations, right?  Well I'll get there, but first, let's look at the Doping Effect – the destructive series events that necessarily follows a rider's doping violation – on the sport of cycling in general.
The general process of a doping violation runs something like this:
A rider gets caught doping.
The rider gets fire and the rider's team issues a statement that they are committed to clean cycling and that the doped rider cheated with no knowledge or involvement of the team.
Regardless, the team's sponsors leave the sport
TV advertisers don't want to be associated with a "dirty" sport and bail out.
Casual fans get tired of trying to guess who's doped and who isn't and stop following the sport
Future heroic performances (e.g. Cancellara's dominant ride at Paris-Roubaix last year) are immediately attributed to doping
Downward spiral
To highlight this process further, the most recent edition of VeloNews describes how Alberto Contador's positive test for Clenbuterol took down an entire team on the other side of the world.  Late last fall, Pegasus Sports was putting the final pieces together before applying to be the first Australian ProTour team, thus guaranteeing a coveted entry into the Tour de France.
One of the hardest parts of founding a ProTour team is finding a title sponsor.  Finding someone who will pay you a lot of money to ride around with their name on your sweating spandex is not an easy feat.  Yet, Pegasus had just about secured the deal to have Red Bull as their title sponsor, but just weeks before the paperwork was due at cycling's governing body (UCI) news spread of Tour champion Alberto Contador's positive test for clenbuterol.
Even though the amount of clenbuterol was vanishingly small and quite probably was a result of accidental ingestion, Red Bull got cold feet, fearing being associated with a sport riddled with cheaters, and backed out.  Pegasus was unable to find another sponsor in time and the entire team has since collapsed, leaving many riders without a job.
The Lance Armstrong Effect vs. The Doping Effect
The demise of Pegasus was the result of a tiny bit of clenbuterol in one test by a rider that, while a 3-time Tour winner, does not have the name recognition of Lance Armstrong.  Now, consider the alleged federal investigation into possible systematic doping by Lance Armstrong's Tour teams.
I'm not going to enumerate the allegations against Armstrong, but let's just say it's a little bit more serious than a little clenbuterol.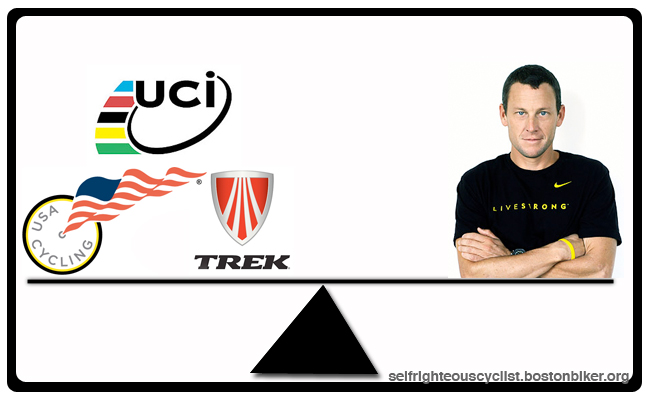 Think about all of the organizations and people who have backed Armstrong over the years – The UCI, USA Cycling, Trek Bicycles, Don Catlin, Chris Carmichael, past teammates of Armstrong all stand to have their reputations tarnished – nay, destroyed – if they protected the rampant cheating that lead to many Tour de France victories.  Due to the Lance Armstrong Effect, it was in the best interest of these parties to pump "The Story" in the faces of naysayers.  All of the above parties had a serious financial interest in milking the story of Armstrong as the golden boy of cycling.
However, if the UCI or USA Cycling are shown to be complicit in this alleged "systematic doping," the effect could not be understated.  It would be, uh, bad.  Sponsors and advertisers would leave the sport en masse, fan support would erode, and lycra-clad vandals would loot in the streets.  Even more seriously, the important mission of the Livestrong Foundation could be undermined, leading to an evaporation of donor support which would directly impact cancer patients, survivors, and researchers.
So this leaves me conflicted.  Normally, like any reasonable person, I believe that anyone who has committed a crime needs to face the consequences.  But not now.  The stakes for cycling as a sport (and maybe even beyond the sport) are too high.  While I would love to know for sure that the athletes I cheer on every season are free from performance enhancing drugs, I am willing to – just this once – accept not knowing the truth about Armstrong.  I'm not saying that I believe he doped or didn't dope.  I'm just saying I'd rather not know for sure.
In the comments, tell me:
Are the stakes too high for Armstrong to be tried like any other athlete?  Is he "too big to fail"?
How, if at all, would the demise of Lance Armstrong effect non-sport cyclists such as commuters like you and me?  Would people give it up?  Would manufacturers
Am I singing a doomsday song?  Would life go on unchanged after a conviction of Lance Armstrong for systematically defrauding the US Postal Service?